With the current state of the markets, many people including myself might be inclined to take on a wait-and-see approach and slowly deploy our dry powder rather than go all-in at this point in time.
With cash or equivalent sitting on the sidelines, we could be rather tempted to leave my assets on platforms that help me to earn some passive / alternative income while we wait for clearer signals.
Staying on the sidelines
And that's exactly what I did! I have done the hard work for you by rounding up all the relatively common options for cash yield in the current bearish climate.
Needless to say, I have de-risked significantly but still holding a higher percentage of my portfolio in stablecoins. Perhaps I should update this post on a regular basis, yes? OK – why not.
A word of caution though – it is more likely than not that yield will continue to drop for some of these options, although rising interest rates could turn out to be a boon for other products like Singapore Savings Bonds which has seen a gradual rebound.
Well, we win some – and we lose some.
Below is a table of an overview of the updated yield that we can get on our stablecoins or cash right now, and all of these products and platforms are those that I am currently using, or have used in the past. You can click on the respective links to bring you to my specific blog post on them.
Also, I generally use USDC as the stablecoin of choice when doing comparison and receiving rewards in kind.
Skin in the game
My golden rule remains – skin in the game. I don't write about things that I don't use.
Only when I have used these platforms, then can I share my experience with you. Hopefully, this can become part of the research which allows you to reach a decision on whether to use them, or not.
And if you choose to do so, why not use any of my personalized referral links to get a bonus reward out of it?
List of Platforms I'm Using To Get Yield (May 2022)
1. Insurance Savings Plans
No secret that I have been using Singlife for a rather long time and this year, I have added Singtel Dash PET to my portfolio.
Both are easy and effortless options to park some emergency cash for 1%-ish yield instead of getting next to nothing in bank accounts.
A quick tip – one quick and easy way of boosting my Singlife returns is to hit the bonus requirement. I earn bonus return of 0.5% p.a. on top of my 1% p.a. base return for the first S$10,000 in your Singlife Account as I spend on the Singlife card (till 31 December 2022).
Within each card spend period, I'll spend $500 on your Singlife Visa Debit Card by topping up my Grab account in order to qualify for the bonus return.
This category could see a revival in rates soon or else I might be shifting my cash into the next category – SSBs.
2. Singapore Savings Bonds
I have briefly written about Singapore Savings Bonds in the past and there are 2 payouts in a year.
Do note the big jump from the interest rate for the first year versus the subsequent years.
3. Robo-advisors
From my earlier blog posts, I have mentioned that I do have a little bit of funds deposited into cash management solutions such as Endowus Cash Smart / Syfe Cash+ / MoneyOwl WiseSaver that are made available by robo-advisors.
One thing to be careful or mindful about, is that for cash management solutions, the underlying funds do fluctuate in value as well! This means that our portfolio value can dip below our investment amount.
This point is also often repeated by Endowus that drawdowns can be sharp with a prolonged recovery period. Negative months can occur when fixed income markets fall.
Always know what we're getting into.
In Economics 101, we learned that for example, bonds have an inverse relationship to interest rates. When the cost of borrowing money rises (when interest rates rise), bond prices usually fall, and vice-versa.
4. Crypto
I'm gonna be repeating the same thing again and again – the current state of crypto isn't suitable for the general population, and I still stick to my views.
As usual, I don't like talking about specific tokens (phew, this was a savior) so I'll focus on only stablecoins.
In future, what I am considering writing about is DeFi platforms which we can use to perform a robo-advisor style portfolio that will, for example, consist of only Bitcoin, Ethereum and stablecoins, or even making income from crypto covered calls. Keep a lookout for that if you're interested!
a. Hodlnaut
I have been using Hodlnaut for the longest time and even wrote a review for this Singapore-based crypto startup.
A lot of the information you need to know is included in that blog post already, so do check it out if you haven't.
One good point to note – which the co-founder of Hodlnaut has also mentioned before.
Higher yields on Bitcoin (BTC) is the characteristics of a bear market while higher yields on Stables (USDC, USDT and DAI) could signal a bull market. A sign of what's to come?
How to get your Hodlnaut referral reward –
Sign up with my referral link
Deposit any supported asset worth $1,000 in a single transaction as your first deposit or within 1 week from your first deposit. Account balance of USD1,000 must be maintained by them for 31 consecutive days. The bonus 30 USDC is paid out to you in USDC after 31 days at 4pm (GMT +8).
Stack with the current promotion campaign to earn up to 50 USDC in total.
b. Crypto.com
Crypto.com has been a stalwart in the crypto space since I came to know about them in 2017.
Since then, I have reaped my benefits as a long time user by enjoying complimentary Netflix and Spotify from them, and making back all my initial capital.
Despite the nerf to their Visa cards from 1st June 2022 onwards, my Royal Indigo tier still serves me somewhat well considering the benefits it gives with the 2% cashback.
Sadly, the Crypto.com Earn portion will no longer feature prominently as only the first US$3,000 will enjoy the Tier One's 8% yield for stablecoins.
How to get your Crypto.com referral reward –
Sign up with my referral link
You stake S$500 worth of CRO for a metal (Ruby Steel or above) Visa card
You get $25 USD in CRO
c. BlockFi
One of the OGs in the space along with Celsius and Hodlnaut, I have my funds deposited with BlockFi for a long, long time.
Granted, I've had my crypto assets move in and out of the account very often to take advantage of promo codes but till this day, BlockFi remains one of the platforms that I continue to use over the long term.
Do note that BlockFi differentiates 'wallet' and 'interest account'. Upon funding your wallet, don't be a dork like me and forget to transfer it into the 'interest account' or you won't earn any interest. Stupid me.
How to get your BlockFi referral reward –
Sign up with my referral link
Fund account with $100 or more
Maintain an average balance of $100 for the 30-day period
You will get $10 in Bitcoin
d. Celsius
Another of the OGs in the custodian platform space, Celsius often has promos running to entice users to deposit fresh funds into the platform.
Take for instance, you can use my referral link to sign up and get $50 in BTC. Then, you can apply another promo code 'STABLECOIN50' to receive another $50 BTC via a subsequent transfer.
Note that they use a simple FIFO (first in first out) method for applying promo codes.
How to get your Celsius referral reward –
Sign up with my referral link
Fund account with $400 or more
Maintain an average balance of $400 for the 30-day period
You will get $50 in Bitcoin
e. Gemini
I created my Gemini account back in 2018 or 2019 and it was where I DCA some ETH back in those days.
Gemini is user-friendly for beginners and has a user-interface that I'm familiar with.
A big plus is that it supports FAST withdrawal of SGD directly into my bank account and I have tested off-ramping with it. Literally fast, and loving it.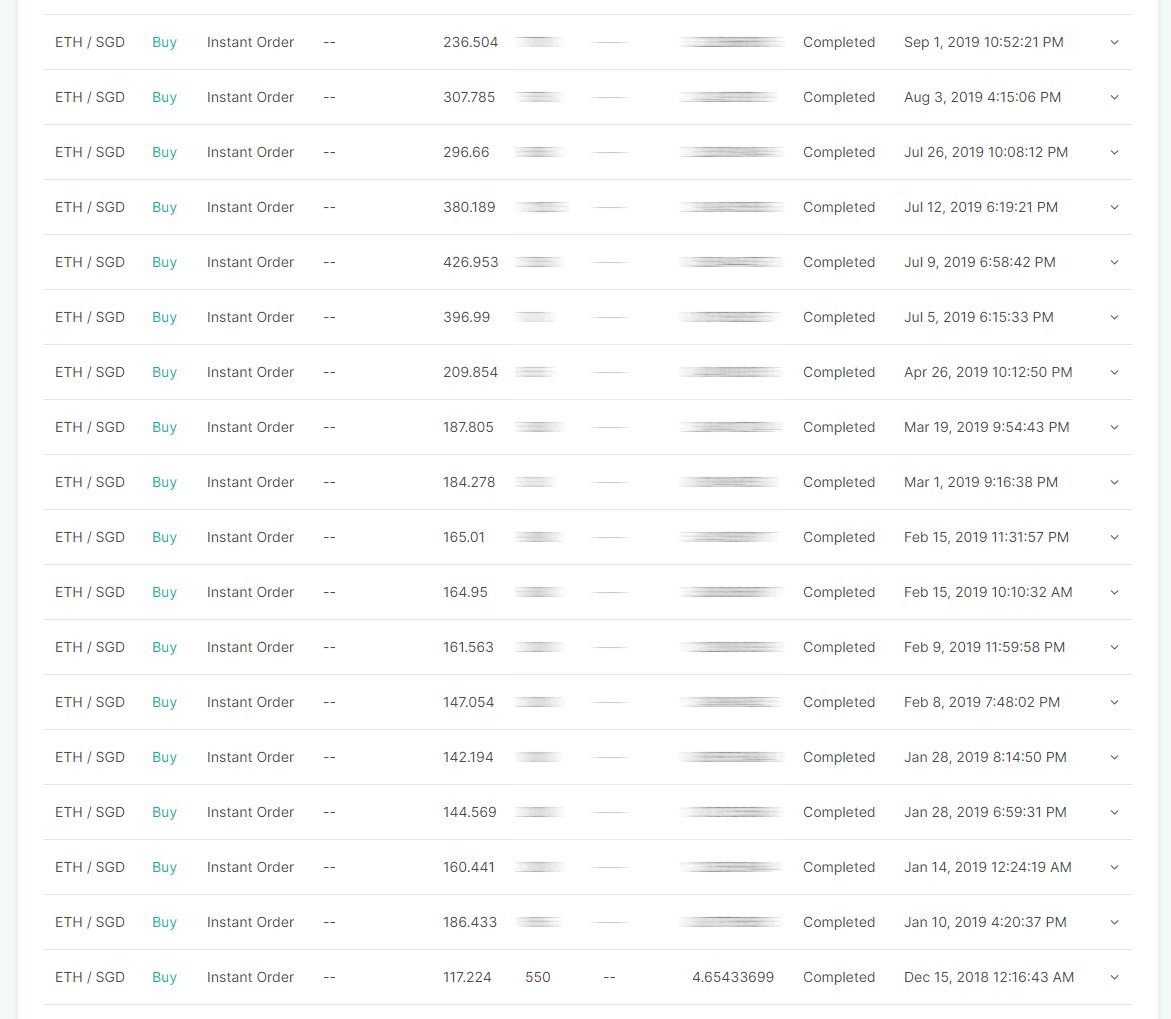 Interestingly, the Gemini Earn feature for yield is not available for USDC. I tried to do it but I got an error message.
Checked with support and realized it wasn't available in our region – so the Gemini Dollar (GUSD) has to be used.
FYI, Gemini dollar is a stablecoin that combines the creditworthiness and price stability of the U.S. dollar and is issued by Gemini, a New York trust company regulated by the New York State Department of Financial Services.
Also, Gemini dollar is audited on a monthly basis by BPM, a private and independent accounting firm, that ensures there is parity between the amount of USD in reserve and the amount of GUSD in circulation.
How to get your Gemini referral reward –
Sign up with my referral link
Buy or sell US$100 equivalent of crypto within 30 days of creating your account
You will receive US$10 worth of Bitcoin
f. FTX Earn (Previously Blockfolio)
If you're confused by FTX Earn, so was I.
FTX Earn actually refers to the mobile app which was previously known as Blockfolio before it was acquired by FTX.
I really like using FTX Earn because it offers 8% APY on the first $10,000 worth of all crypto.
Subsequent amounts earn 5% which isn't too bad either.
This allows flexibility as I may have crypto that usually wouldn't earn that much interest on other platforms, and I can prioritize them in FTX Earn instead.
Another big plus point for me is that transfers between FTX Earn mobile app and FTX Exchange are considered internal transfers, and therefore instant plus free.
This means that I can pair it up with my FTX Exchange daily free withdrawals for higher maneuverability.
FTX Exchange is by far my favourite exchange, and the main one that I use. Do check out FTX if you haven't done so, you might like it as much as I do.
How to get your FTX Earn referral reward –
Download FTX app
Register with my referral code : turtle
Trade $10 worth of crypto
Get a randomly assigned coin / token (luck plays a part)
g. Nexo
Nexo is a newer kid on the block which I'm testing out so I haven't had too much experience to write about.
Basically, it works the same way as other custodian platforms.
Works well for me so far without encountering any issues, but I'm not that comfortable putting in a referral link just yet.
Let's wait and see for now.
How to get your Nexo referral reward –
Sign up with my referral link (in future)
Fund account with $100 or more
You will receive US$25 worth of Bitcoin
Summary
Very important point to note is that terms and conditions can always change at anytime so please check whether the information I've written is valid prior to using any of these platforms and products.
I can openly share my experience with you e.g. leave a comment, direct message on Twitter or find me on Discord but do keep in mind the following disclaimer.
Disclaimer
The information provided on this website is a reflection of my personal experience, and does not constitute investment advice, financial advice, trading advice, or any other sort of advice and you should not treat any of the website's content as such.
This is a gentle reminder that the trading of crypto (or digital payment tokens) is highly risky and not suitable for the general public. Conduct your own due diligence and consult your financial advisor before making any investment decisions.
If you have made it this far into this post and found it helpful or informative, consider subscribing!
Hitting the Like and Share button (floating at the bottom-right corner) will help my content to reach out to more people who would benefit from it!
Blog news & stuff
Recently, I created free eBooks for you – do check them out here!
No matter which is your preferred app or medium, there are plenty of ways to get notified whenever there are new blog posts!
Did I mention I have a brand new shop? Basically an upgraded version of my dedicated referral links & codes page and some are exclusive offers. In my virtual store, I penned down my thoughts and listed some awesome products and services that I'm already paying for that helped to supercharge my financial journey. Check it out – it might have something you want!
Hello! I'm Kevin, Turtle Investor
At the age of 30, I am the Personal Finance Blogger who laid claim to a negative net worth of minus $25,755 – and decided to turn things around.
More tidbits about myself here if you're curious. My blueprint for financial independence can help give you a head start in your own FIRE – Financial Independence, Retire Early (optional) – journey.
I am married to a lovely wife and that means dual income with no kids. In my free time, I chase miles so that we can fly in business class. My hobby is making pocket change off this blog and sharing everything I know with you!